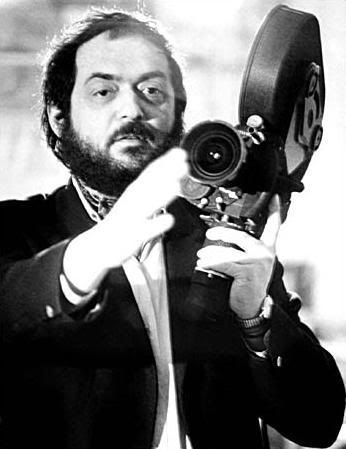 "
A filmmaker has almost the same freedom as a novelist has when he buys himself some paper.
" -- Stanley Kubrick
('The Making of Kubrick's 2001' edited by Jerome Agel, 1970, Signet)
Much has been written about his obsequious attention to detail, a multitude amount of takes, the speed in which he worked, and all the recondite things in between. An American filmmaker who grew out of an independent DIY (Do-It-Yourself) style in the streets of New York. From snapping photographs of unsuspecting bystanders, to hand-held film documentation, to convincing his father and Uncle to finance his first feature film.
In 1951 at 23 years old, Kubrick self-financed his first film, "Day of The Fight." A 13min. documentary featuring a boxer, Walter Cartier, as he prepped and got into the ring for a match. Kubrick learned the basic mechanics of his motion-picture camera from the man who rented it to him. Kubrick, as producer, director, and chief cinematographer, sold the short to RKO for its "This is America" series. It played at the Paramount Theatre in New York, earning Kubrick his rental cost back and interest in more subjects.
Kubrick's absolute dedication to his craft was born in the San Gabriel mountains of California in March 1953 with his first feature "Fear and Desire."
He directed, produced, edited, photographed, and ran his own sound recordings in post-production. Today, in our digital age, we all started making films this way. Much like the independent wizards today, Kubrick improvised in the use of his limited equipment and resources. One scene called for an eerie fog effect. Kubrick used a crop spraying device from a nearby farm. (
http://www.time.com/...,867001,00.html
) Paul Mazursky, who acted in the film, describes Kubrick using a baby carriage to create a tracking effect in his book "Show Me The Magic."
Though Kubrick would later disown himself from this courageous project, he certainly followed it up with some portentous stepping stones.
"Killer's Kiss"
"The Killing"
"Paths of Glory"
"Spartacus"
Kubrick's perspicacity has been ever present throughout his work. Freely jumping through film genres and experimenting with cinematic styles. By teaming with James Harris, then a young producer, it brought Kubrick to better financing and legitimacy. Spanning from these independent features to his getting Sterling Hayden and Kirk Douglas attached to projects he was ready to be hurtled into the ring as a young, fresh, director-for-hire.
"Spartacus," for Kubrick, carried the torch toward artistic freedom. Kirk Douglas tailored the "Spartacus" picture for himself, becoming the Executive Producer, and casting a golden list of actors for this sword and sandal epic. With a screenplay by the blacklisted Dalton Trumbo, writing under pen name "Sam Jackson," the recent firing of Anthony Mann, Kubrick was approached by Douglas to finish the picture in the same great fashion in which they'd just previously done with "Paths of Glory." With several armies of extras, a $12, 000, 000 budget, and absolutely no creative control for Kubrick, the picture was a success at the box offices. There were largely publicised fights between Charles Laughton and Laurence Olivier, but more importantly, between Kubrick and Douglas. Though it was successful and introduced Stanley Kubrick to the masses, Kubrick disowned the picture and vowed to dedicate himself to his own creations. "Spartacus" was the only Kubrick film in which he had nothing to do with the screenplay, no word in the editing process, no producing credit, or any say in the casting.
In 1961 Kubrick worked for six months on what I've always considered a great tragedy in it's failed possibility: "One-Eyed Jacks." A western starring and finally directed by Marlon Brando. Written by an odd mix consisting of Rod Serling, Calder Willingham, and Sam Peckinpah. Featuring, ironically showing up later in one of Kubrick's most iconic films, Slim Pickens. Brando's production company, Pennebaker Productions, was financing the film and working over Kubrick's shoulders, something Kubrick had recently dealt with while working on "Spartacus," again having issues when it came to casting decisions. Going through many different versions of the screenplay, hiring and firing the above listed writers, Kubrick felt the script had become too muddled and asked to recast Karl Malden with Spencer Tracey. The production company had already paid Malden a large sum and denied Kubrick's request. Most of the company was fired when Brando canned Peckinhap for re-writes he didn't like, Willingham for reasons unknown, and eventually Kubrick because he, Brando, hadn't thought the production was moving quick enough. Brando hired himself to finish the picture and his original cut would run close to 4 1/2 hours before Paramount re-cut it to half its length. The film has been panned and pushed to the side over the years though readily available through the Alpha Video catalogue.
Moving to England turned out to be the best move Stanley Kubrick ever made. In 1962 he would embark on a journey that wouldn't end until March 7, 1999. The journey was called "Lolita." Even with the enormous cuts made to the film, the dealings with censorship and earning a BBFC "X" rating, the different surviving versions of the film, still no home video release has done this legendary feet justice. "Lolita," perhaps more importantly than Kubrick's others, rightfully needs the serious attention of those interested in the survival of important classics and contemporary films.
-- Jon Dambacher